Right about now, with the Fourth of July on the horizon, perhaps you're realizing you still haven't found the best pair of summer footwear. If that's the case, and if this just jolted you into hurriedly examining your seasonal footwear rotation, fear not: Relief is in sight via the SeaVees Baja Slip-Ons, easily some of the best slip-ons for right now — and some of the most affordable, at that. If you're not acquainted with SeaVees yet, now is the perfect time to take the plunge. This California-based brand has been making sneakers for decades, with old-school roots that are closely tied into coastal surf and skate culture — that's what makes the SeaVees Baja Slip-Ons so cool.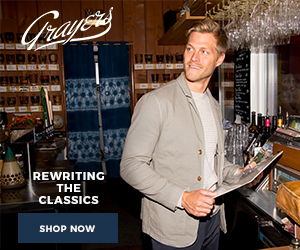 They're retro and yet current, boardwalk-ready and yet able to be worn with slim tan chinos and your new favorite polo in your home office. Even better? They're sold right now at a discount by the good folks at Bespoke Post, who reliably stock their digital shelves with the best gear for men — period. Heck, when it comes to seasonal style releases, Bespoke Post just does it right (seriously — check out this affordable overshirt, for starters). So, you know the SeaVees Baja Slip-Ons check all the proper boxes. But …what if you feel like your rotation is all set? Not so fast, folks.
SHOP: The SeaVees Baja Slip-Ons


These stylish summer slip-ons are nearly everything you could ask for in a pair of footwear for warm weather, starting with the fact that, well, they're easy as can be to wear. Slide them on for (socially distanced) errands or a brewery pick-up visit, rock 'em while hanging outside & then kick them off when you're done for the day. That's it, easy as that. You're getting a lot of versatility from these classic summer slip-ons, too. These are the kind of shoes to wear with slim grey chinos and a classic polo for slightly dressier occasions (summer date night at home, anyone?), and yet, you're going to find yourself wearing the SeaVees Baja Slip-Ons with chino shorts and a crisp white tee, too. The washed linen upper is ideal for casual style in the summer, while the memory foam footbed offers plenty of comfort — think of these as summer house shoes for day-to-night style. The molded herringbone outsole is also a timeless SeaVees touch that finishes these sneakers off quite nicely. Before you finalize your summer shopping, make sure these essential slip-ons are in the mix.
SHOP: The SeaVees Baja Slip-Ons