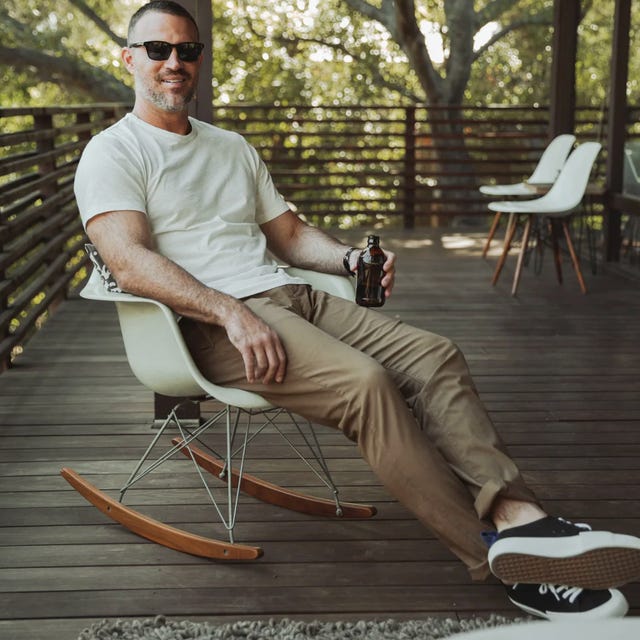 It's a pretty fitting day to be talking about the best gear for men this summer, especially when you can get all of the best summer style essentials you need from Huckberry right now. Kick back, grab a cold one and allow me to share the best Huckberry shopping picks today. Still with me? Great. At this very moment, the Huckberry Memorial Day Sale is going on, but it's moving quickly and said sale is offering up some stellar discounts on plenty of the season's top gear. With that being said, you've still got plenty of time this week and this summer to shop my favorite style picks from Huckberry, so don't worry: I've got you covered, even if you don't buy today (but… you should!). Let's dive into another edition of The List, then enjoy the rest of the holiday. Cheers!
The 15 Best Summer Gear Picks from Huckberry
Flint and Tinder Unlined Waxed Trucker Jacket — $149.98 (Regularly $188)
The rugged and always-wearable Flint and Tinder Trucker Jacket gets a summer refresh here via lightweight waxed canvas, and you can scoop it up at an unstoppable price today. Not bad, right?
Mission Workshop 500D Drift Tote — $165.98 (Regularly $265)
I've talked quite a bit about this rugged tote bag (in posts like this #OOTD!), and now that it's marked down to well under $200, I'm going to go right ahead and call out that you need to snag your new go-to summer bag ASAP.
Flint and Tinder Lightweight Stretch Chinos — $89.98 (Regularly $128)
Get an excellent discount on some of the best lightweight chinos for men, the kind you can wear with your Flint and Tinder Trucker Jacket when the sun goes down. Just add your favorite T-shirt and call it good. Speaking of…
Forty Five Slub Pocket Tee — 3 For $95
Get a nice bundle deal on three of the best T-shirts for men. These USA-made T-shirts come in cool, washed-out colors, perfect for lightweight seasonal layering. Don't miss out, folks.
La Paz Beach Shorts — $95.98 (Regularly $128)
What do you need to wear alongside one of the best T-shirts for men? That's easy: A pair of lightweight men's shorts that work at the beach or at your favorite patio bar.
Astorflex Patnoflex Travel Loafers — $157.98 (Regularly $175)
If you've been searching for a pair of the best loafers for summer, I'd say you've just met your match. These Astorflex loafers are affordably priced the rest of the time, but hey, a few bucks saved never hurt anybody, right?
OAS Terry Towel Polo — $63.98 (Regularly $99)
Just in time to head to the pool or the beach, get this classic Terry towel polo and wear it weekend after weekend. It's the epitome of laidback cool.
Upstate Recycled Fiber Throw — $122.98 (Regularly $175) 
For all those days when you head to the beach or the pool, or to your local park, bring along this sustainable fiber throw.
Huckberry Weekenders Sunglasses — $22.98 (Regularly $35)
The most affordable men's sunglasses on the market get an even further discount. At this price, you should buy at least two pairs (one for the house, one to keep at the cabin… and so on!).
Taylor Stitch California Shirt — $99.98 (Regularly $125) 
Any time you can snag a Taylor Stitch shirt for under $100, you should hop right on that deal. This one could become your new favorite summer shirt.
OBRA 240 Canvas Slip-On Wrap-Toe Sneakers — $77.98 (Regularly $120)
Talk about a standout deal on some of the best men's sneakers. It's not every day that the best slip-on sneakers for men go on sale, is it? OBRA makes its pairs sustainably and with pride in mind.
Marathon MSAR Automatic Watch — $734.98 (Regularly $1,050)
This rugged adventure watch gets one heck of a markdown here in the Huckberry Sale section, and that's about as cool as it gets.
VEJA V-10 Sneakers — $104.98 (Regularly $140)
Another pair of stylish men's sneakers for summer, you say? Sounds great to me — these VEJA sneakers really are an terrific discount. Wear 'em all season.
Faherty Brand Slub Cotton Hoodie — $73.98 (Regularly $98)
Take this laidback slub cotton hoodie, add your favorite T-shirt, light wash jeans and perhaps your VEJA sneakers, then call it a day this summer. Cheers!
Flint and Tinder Indigo Work Shirt — $138
 Last but not least, and just for fun: Every guy needs a reliable, durable work shirt for all occasions, including summer beer imbibing, and it helps that this Flint and Tinder work shirt checks all the right boxes (note the cool indigo color, too).
Are you all geared up for summer now? I know I have more than my fair share of style wish list additions thanks to the Huckberry Memorial Day Sale — from lightweight men's shorts to the classic Flint and Tinder Trucker Jacket. Be sure to let me know your favorites in the comments below. Cheers and enjoy the day (and the season) ahead!