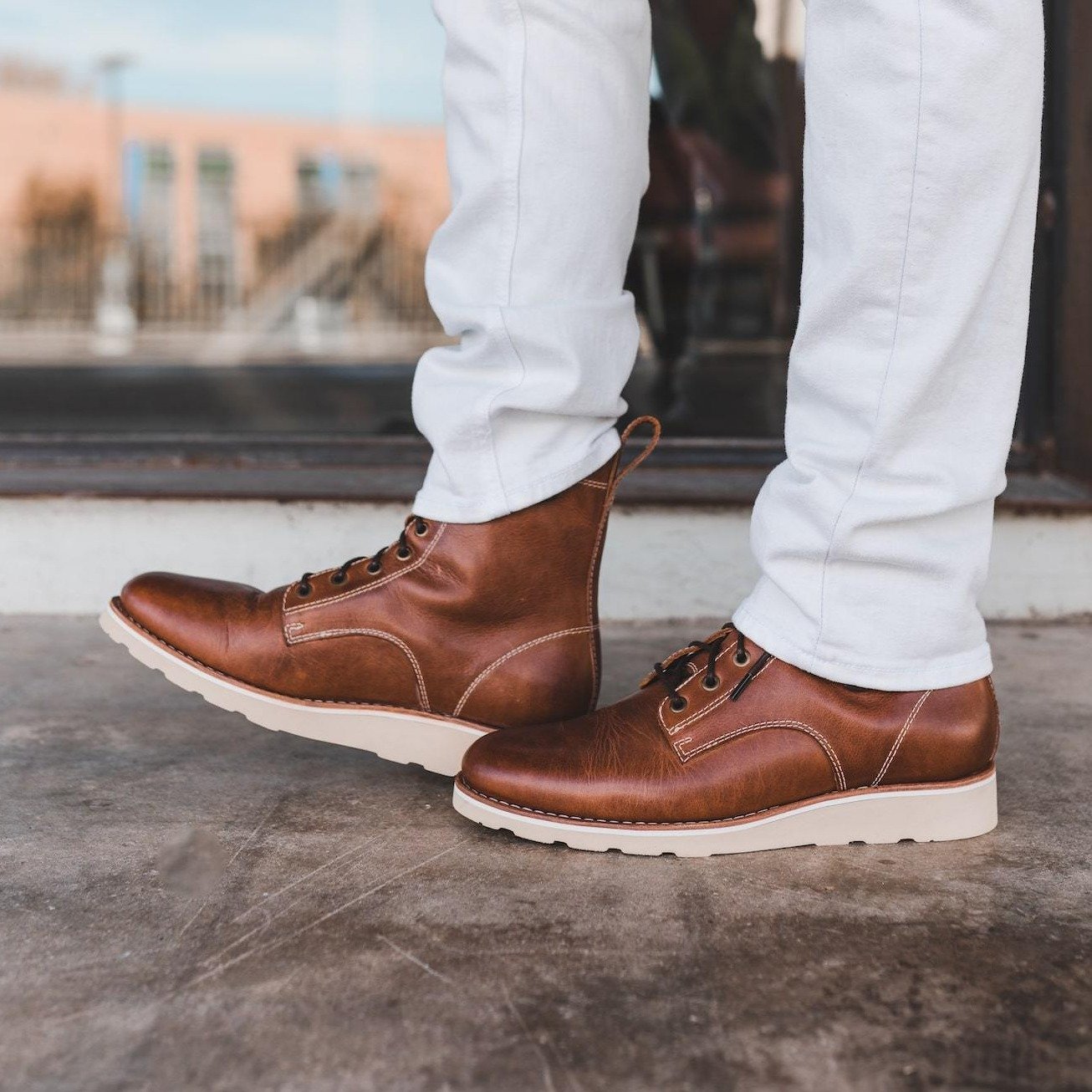 Who among us can pass up the chance to buy some of the best leather boots for men, right? I know I certainly can't turn down the chance to both shop and buy a fresh new pair of rugged leather boots, especially to end one year and head into the next in style. If you ended up with some extra Christmas cash, for instance, then investing in some of the best new leather boots from Austin-based HELM is never a bad decision. I've long been a fan of HELM's richly crafted leather boots (check out my HELM boots review for the full scoop), and with the HELM Jakob Boots, it looks like they've done it once again.
What exactly does "it" mean when it comes to the HELM Jakob Boots? Well, it's both simple and yet not quite so simple. It starts, of course, with the work boot silhouette, a tough-as-nails style originally introduced into the HELM line in 2018. Now, the HELM Jakob Boots are back in the mix, with the same silhouette, the very same standout rubber cushion sole and the same handcrafted quality.
The HELM Jakob Boots also really lean into the brand's penchant for high-quality, rugged and extremely dependable boots. In this instance, that means they use Blake Rapid Welt Stitch construction, which sews the upper of the boot onto a two-part lower half: A midsole sewed onto a rugged outsole. This gives it another layer of toughness and durability, ensuring that the HELM Jakob Boots aren't messing around when it comes to tough performance and seasonal appeal. Make no mistake though, the HELM Jakob Boots aren't ultra-heavy or clunky. The lightweight, cushioned yet dependable rubber outsole makes them some of the best boots for men, providing traction and workman-like performance on slippery city streets.
It also helps that the HELM Jakob Boots feature rich, gets-better-with-age Krumenauer leather in Brown (Krumenauer has been around for well over 100 years). Yes indeed, the specs on the HELM Jakob Boots are undeniably cool and built to withstand plenty of wear and tear. And although these are a work boot style, they're streamlined enough to be worn with your favorite pair of chinos, plus a rugged denim trucker jacket (to name but one style pairing). They can also be worn readily with broken-in blue denim and your favorite henley, but a classic Oxford shirt is a prime style move, too. Throw on a shawl cardigan and you're ready for a winter day at the office or beers at your favorite brewery. That'll work just fine, won't it? Lace up the HELM Jakob Boots to ring in the new year and the rest of winter in style.