Think of the summer shirts you enjoy wearing the most — what do they have in common? Breezy fabric, a classic-but-not-baggy fit, the kind of effortless cool that makes you feel like a movie star? If you checked off any of the above boxes (and even if you didn't!), I've got one of the best shirts for summer up for the taking today. Part of the See Now, Buy Now series has been shining the spotlight on summer style essentials that'll work year after year, long past just this season. The Freemans Sporting Club Rust Stripe Shirt certainly fits the bill in that regard. As sold by Huckberry, you can be well sure it's worth the investment. Not familiar with Freemans Sporting Club? Keep reading —  that's why we're here, after all.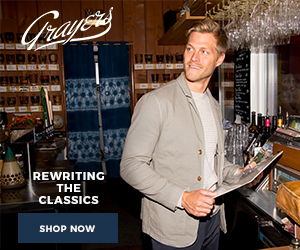 This NYC-based menswear brand has carved out a niche all its own in the city (and at shops in locales like Tokyo), crafting a standout line of (frequently) USA-made style staples. We're talking cool corduroy suiting, Western shirts and luxurious jackets, to name but a few. They also stock and sell everything to go along with those picks, including rugged Viberg boots. The shop is sharply designed, and it's right next door to the outstanding Freemans Restaurant, as it were (waiting for when I can return to both!). Yes, Freemans Sporting Club knows what guys want. But back to why this piece is one of summer's best shirts for men.
SHOP: The Freemans Sporting Club Rust Stripe Shirt
It's a rare USA-made shirt, and it features an excellent 82 percent cotton-18 percent silk fabric blend. That means this stylish summer shirt is going to wear light and breezy alongiside your favorite chinos, slim light wash denim or tailored shorts. The rust stripes are a suitably bright touch of color for summer, but this isn't a garish shirt by any means. True to the type of work that Freemans Sporting Club does, it'll wear reliably underneath an unstructured navy cotton blazer or atop a classic white T-shirt for casual summer style. Is there a cooler, breezier, more stylish summer shirt than this one? That's for you to decide.
SHOP: The Freemans Sporting Club Rust Stripe Shirt