As we roll through June, perhaps you've realized something: You're in need of a new favorite pair of swim trunks, the kind of pair that blends style and functionality with ease. Well, folks: Meet the Everest Isles Swim Trunks, available for under $100 at UNCRATE right now as part of today's Sunday Sale. What a deal, right? Yes, yes indeed. And it's also worth mentioning that the UNCRATE Surplus Shop is one heck of a place to go to get some standout menswear deals in general. Case in point: Not all that long ago here on the blog, I talked about the best men's sneakers for summer, a pair that just so happen to be under $60 at UNCRATE. The deals, they keep on rolling.
If you're familiar with the well-stocked UNCRATE Surplus Shop, then perhaps you've had your eye on those finely crafted sneakers. But let's keep it more beach-friendly today with a pair of the best men's swim trunks, the kind that you'll definitely appreciate all summer long. I've tried out a set of Everest Isles Swim Trunks myself, and I was struck by how lightweight and easy to wear they happened to be — they're streamlined in terms of fit and fabric, a huge bonus for the guy on the go (that's you!).
SHOP: The Everest Isles Swim Trunks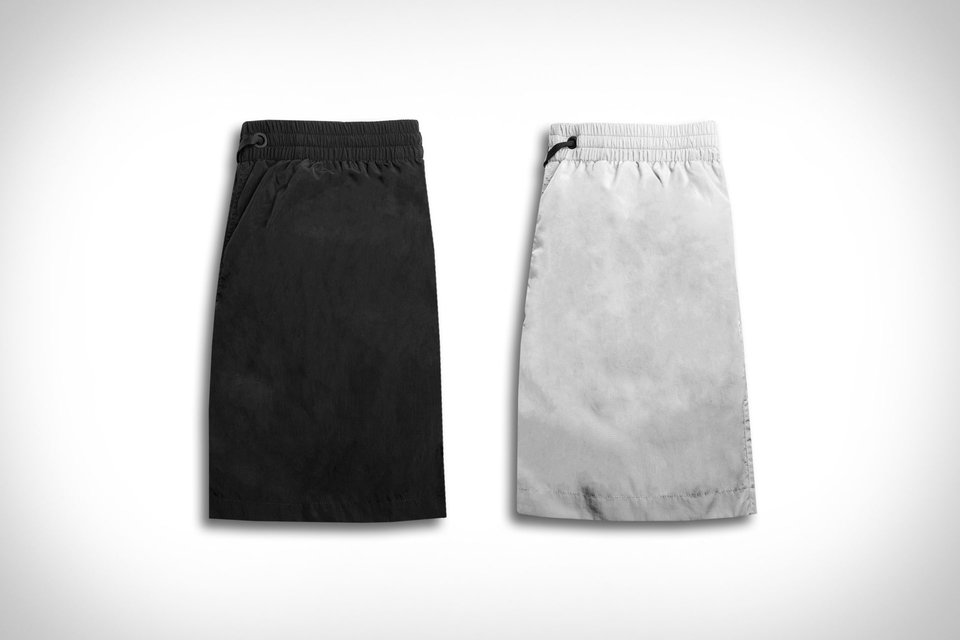 It just so happens that the Everest Isles Swim Trunks, in addition to being stylish and cut above the knee for maximum mobility, are also sustainable. They're made with regenerated nylon that's both durable and yet easy on your legs (they also incorporate other reclaimed materials salvaged from the ocean). That means they're a pair of stylish men's swim trunks you can feel good about wearing. And again, let's not forget that they clock in at under $100. Even the small details are on point, which helps justify the fact that you're still investing in this pair of swim trunks. Take the laser-engraved, corrosion-resistant cordage ends to prevent fraying — talk about a great feature.
The elasticated waist and athletic fit are flattering on most body types, as are the two sleek color options: Black or Silver. Either should pair readily with summer style staples like a classic Sunspel T-shirt or a timeless men's polo for hours of fun in the sun, beer in hand. And because they're cut like tailored shorts, you can even wear the Everest Isles Swim Trunks to grab a bite to eat after a day on the water without missing a beat. Throw in this stellar deal, and once again, you've just found your new favorite pair of swim trunks.
SHOP: The Everest Isles Swim Trunks