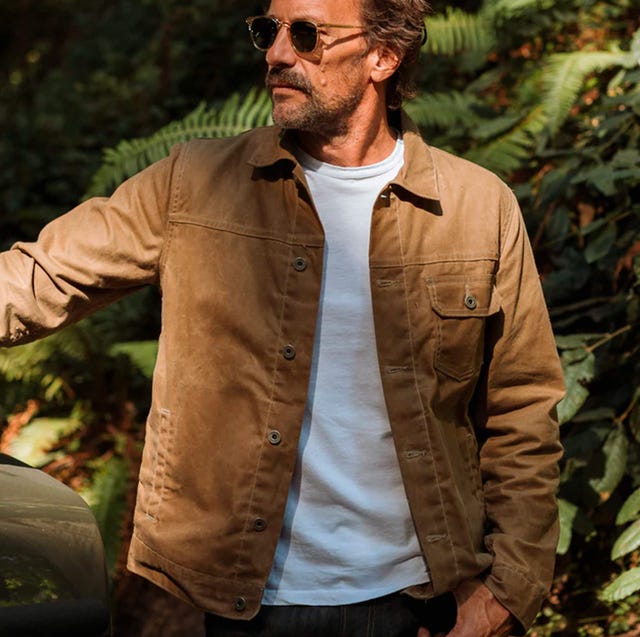 Ahh, yes. The summer season is well and truly upon us, and with it comes the chance to stock up on your new favorite menswear from Huckberry. The lauded San Francisco retailer, long a top brand on this blog (and plenty of other places) has all the gear you need for hot summer days and nights aplenty. I've talked plenty in recent weeks about my favorite gear picks from Huckberry, but it's always wise to revisit what the brand is stocking in its very, very well-curated digital shelves. With that in mind, get that credit card at the ready, as I always say, and start shopping for the best summer style essentials out there.
This Week's Top Huckberry Gear Picks
Wills Mercerized Cotton Tee — $42
Huckberry is, perhaps not surprisingly, a great place to go to stock up on the best men's T-shirts. This all-important style essential is a surefire seasonal staple, and Wills does it right with this premium cotton tee.
Wellen Easy Chino Shorts — $68
Folks, it's an exceptionally hot one out there most days this summer, so a pair of the best casual shorts for men should be very high on your summer shopping list. These sustainable shorts are an easy and breezy style move.
OluKai Mio Li Sneakers — $130
Cap off that pair of the best casual shorts for men and one of the best men's T-shirts with a pair of stylish everyday sneakers. These are both sporty and yet wearable with chinos or light wash denim, which is just too good to be true. Or is it?
Marine Layer Stretch Twill Windbreaker — $155
Now, not every single day is going to call for a stylish lightweight jacket like this one. But when the time comes and summer winds pick up, you'll be glad you picked up with eye-catching windbreaker… right? Yes, yes sir.
Flint and Tinder Summer Jeans — $148
Just as not every day is going to be well-suited to layering up with a jacket, well, you might not find yourself wanting to wear slim light wash jeans every day. But when that time does roll around, these are the Flint and Tinder jeans to throw on.
Shinola Runwell Quartz Watch — $595
Perhaps you want a new leather dress watch to wear back to the office or to that summer wedding. As ever, the much-loved Shinola Runwell Quartz Watch is perfect for each and every dressy occasion.
Flint and Tinder Supima AirKnit Polo — $98
If you keep up with the blog, perhaps you're familiar with the seriously breezy and lightweight style you get with the Flint and Tinder Supima AirKnit Polo. If not, consider this a fine introduction to one of the best polos for men.
Garrett Leight Brooks X 10th Anniversary Sunglasses — $395
The best sunglasses for men are worth investing a little bit more cash in, don't you agree? These Garrett Leight sunglasses in particular should pair up quite nicely with every single other pick on this list, guaranteed.
Jones Sports Co. FC Weekender Duffle — $175
Jones Sports Co. has a 50-year heritage of making some of the best weekender bags out there, especially this handsome and yet rugged duffle bag for guys who want a compact carry for an active lifestyle. Start planning that next trip ASAP.
Fair Harbor Anchor Swim Shorts — $68
Last but certainly not least, let's take a look at some of the best men's swim trunks for this season (and beyond). They're sustainable, stylish and well-priced — what's not to love, right?
If you ask me, I think gearing up for summer just got a whole lot easier and more stylish with Huckberry, did it not? The brand really does have you covered from A-to-Z, whether you want some of the best men's swim trunks, a splurge-worthy pair of the best sunglasses for men or a tried-and-true standby like the Shinola Runwell Quartz Watch. If you've got any favorites from this list, you can let me know in the comments or give me a follow on Twitter. Cheers and happy shopping, folks!