Thanks for joining us on this fine summer Monday as we dive into the latest and greatest from one of my favorite retailers, Huckberry. The San Franciso-based company is so much more than meets the eye, and that's saying something, seeing as there's plenty that meets the eye and surely satisfies even the most discerning shopper. Huckberry was founded on a blend of style and adventure, the sort of gear you need for a life very well-lived. Take a look at the Huckberry New Arrivals section, for starters. It's packed with some of the best men's gear to wear as you keep on rolling through the summer and start prepping (very slowly) for early fall. And again, that's an understatement, believe you me. For now, I'll leave it at that. Check out my picks for the best essentials to shop this week at Huckberry. Get right on it, folks.
The Best Men's Style Essentials to Buy Right Now at Huckberry
Flint and Tinder Flannel-Lined Waxed Trucker Jacket — $268
Huckberry's Bestsellers are, well, best-selling style picks for a reason. These pieces are rugged, durable and versatile, not to mention ridiculously well-made. And it wouldn't be a post preparing you for early fall without recommending that you pick up the legendary, highly dependable Flint and Tinder Waxed Trucker Jacket. You can't go wrong in the slightest.
Proof 72-Hour Merino Tee — $72
Here's another menswear must-buy that's well-suited to the demands of summer, yet primed for layering once fall rolls around. The much-loved Proof Merino Tee is worth buying in spades and then wearing for as long as you please, seeing as it's as it's anti-microbial, moisture-wicking and available in versatile colors.
Rhodes Footwear Tyler Chukka Boots — $175
It's official: You're going to want a pair of the best men's chukka boots in your closet this coming fall, and that's just a fact. The well-made and highly wearable Rhodes Footwear Tyler Chukka Boots can be teamed effortlessly with denim, chinos or just about any other trousers in your wardrobe, and that's just the tip of the menswear iceberg.
Flint and Tinder All-American Stretch Denim — $128
Complete your essential, transitional fall style look with a pair of the best men's denim. Flint and Tinder just has a knack for making pieces any guy can wear, including these stylish stretch jeans (available in multiple washes, a wide range of sizes and Slim or Straight fits). Consider them your new favorite jeans.
Schott Waxy Cowhide Trucker Jacket — $745
Now, it might seem very strange to be shopping for one of the best men's leather jackets at this juncture, seeing as we're in the middle of the dog days of summer. But here's the thing: This Schott leather jacket is going to come in more than handy once fall rolls around. Hop on it this instant.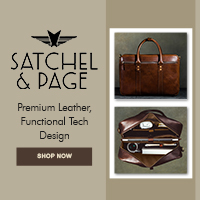 Believe it or not, it's mighty tough to narrow it down to just five of the best new picks at Huckberry, especially when you consider the versatility and durability of, say, Huckberry's Bestsellers, including the downright essential Flint and Tinder Waxed Trucker Jacket. Which was your favorite of the above picks? And how are you prepping for fall? Be sure to let me know on Twitter. Happy shopping!