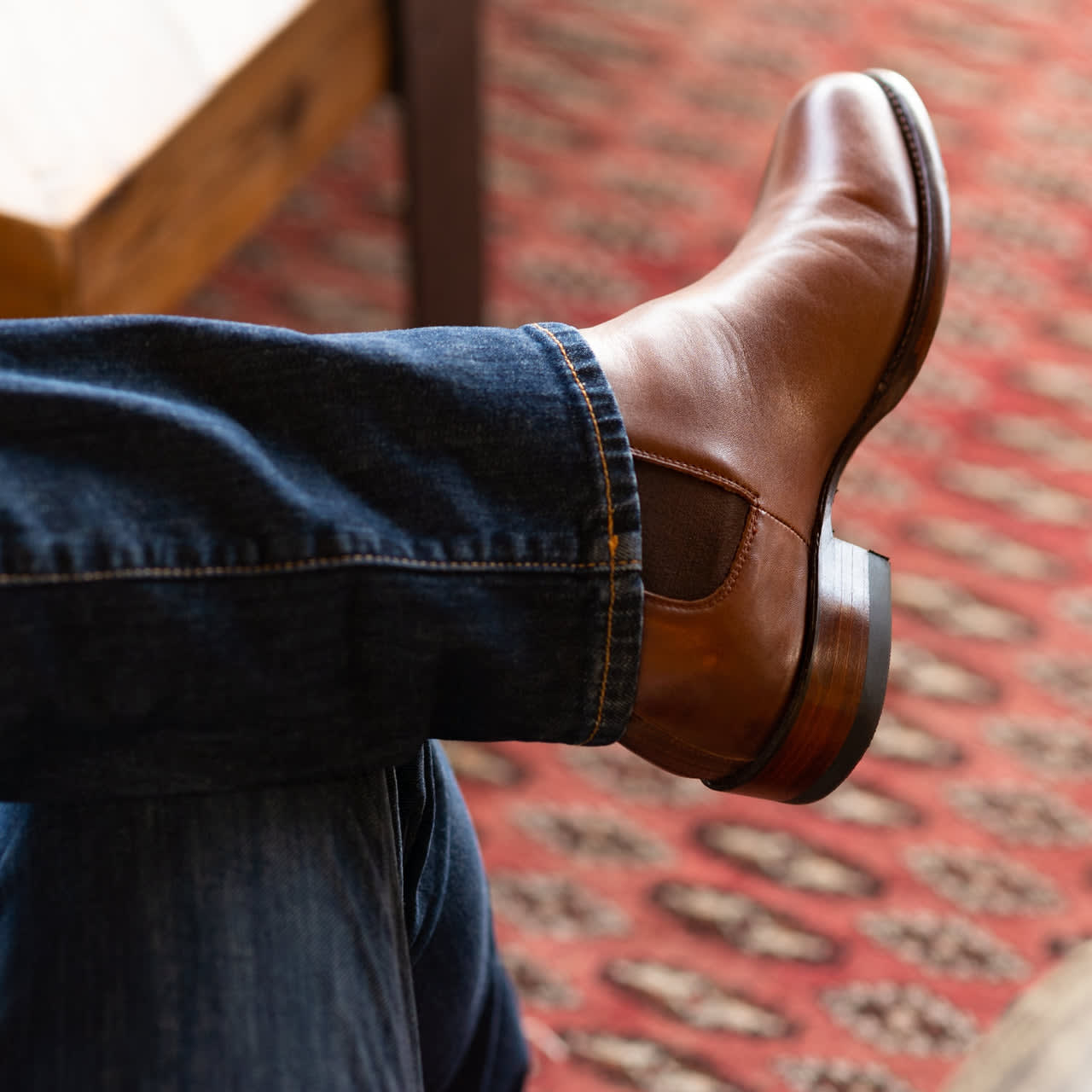 Do yourself a favor and step into the weekend with some of the best boots for men on your feet, especially as we roll through late November, yes? And the boots in question you should be shopping come from one heck of a place: That'd be Tecovas, makers of the stylish leather Chelsea boots you see above, plus a whole bunch of both traditional and on-trend Western boots for men. I've gotten to know the brand over the past year-and-a-half or so, and consider this an early endorsement for your weekend: They're absolutely a brand to know and shop, first launched by founder Paul Hedrick and focused on cowboy boots. These days, the Austin-based company goes just beyond cowboy boots and really does make some of the best boots for men (those Chelsea boots shown above in particular!). In short, you can expect to see a lot more of them on the blog going forward, but you'd do well to add to your rotation of stylish leather boots right now in the meantime.
It's fitting that I'm kicking off today's Friday Read talking about Tecovas — as we speak, I'm actually in western Mexico (the famed city of Guadalajara, to be exact!) on a press trip with famed tequila brand Jose Cuervo! I'm visiting Guadalajara and Tequila to learn about the process behind making Jose Cuervo tequila, going out into the agave fields themselves and exploring the city and region in the meantime. There's also an exciting Jose Cuervo announcement in the works, but I can't quite share details on that yet. For now, how about you do yourself a favor and get some Jose Cuervo delivered for happy hour later via Drizly? I'll be sure to report back on the trip, but for now, you can follow along on Instagram to get the full scoop. I'll be enjoying my fair share of Jose Cuervo this weekend before trekking back to the States (negative COVID test in hand!), and with that being said, do yourself a favor and settle in to read about my top style, shopping and reading picks this weekend. Cheers!
It's never too early to start shopping for the best holiday gifts, is it? Of course, there's one place I recommend above all others, and that'd be Huckberry. The Huckberry 2021 Gift Guide should be of particular interest this weekend, because now through November 21st, you can shop the Huckberry Undercover Sale to get the best deals on the site's best-selling items (especially ones done up in all-black to fit with that undercover theme). Beyond that, it's also an ideal time to shop early and often to get the best gifts for the rugged outdoorsman, the style lover and more in your life. What's not to love about Huckberry's Gift Guide and the Huckberry Undercover Sale, ehh?
I've talked on the blog in recent weeks about the best men's sweatpants to buy for cozy holiday lounging – those would be from Mott and Bow, of course — but what about if you need something with some more polish? In case you needed a reminder (and especially ahead of the holiday season, where you need jeans you can wear with anything), Mott and Bow is giving first-time customers 10 percent off with the code beau10. If you've already tried out the brand's classic blue jeans, then I can't recommend enough that you return to the well again, so to speak, and shop more Mott and Bow.
I wear a lot of hats in terms of my menswear writing, including writing plenty of guides to the best menswear for The Manual. That being said, I think it pays off to have style resources at your disposal, and that's why I love personal styling service Stitch Fix. You can also shop the brand's Stitch Fix Freestyle program, which allows you to shop entire outfits at once. All that being said, my latest dispatch for The Manual covers the best outfits to buy now at Stitch Fix, and there's something for everyone. Complete your profile, answer your style quiz and get started on finding the best men's style essentials for you.
That'll nearly wrap things up in my latest Friday dispatch, but I'll leave you with one more style pick as I head into a weekend of tequila tasting (beyond recommending that you shop some of the best boots for men at Tecovas). Yes indeed, in addition to that, consider shopping one of the most affordable men's shirt jackets right now at another Austin-based brand, Howler Brothers. Now, while that shirt jacket has sold quite fast, it's always worth shopping the Texas purveyors of rugged gear made for adventures and good times. With that, I've got some tequila to drink. Enjoy the weekend and happy shopping!