Who else is looking ahead to the weekend in style, like our man Mr. McQueen up there? He's wearing Persol sunglasses, a classic selection that the legendary actor helped take to the next level as far as classic appeal is concerned. Helpfully, you can add a bit of your own Steve McQueen flair to your summer wardrobe by heading over to UNCRATE and shopping the Persol 714 Steve McQueen Sunglasses in the UNCRATE Supply Shop. They're about as good as it gets if you want truly legendary style, and I'm not just saying that. Give them a look for yourself, and then let me know on Twitter if you end up picking them up.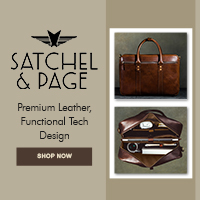 As luck would have it, I'll be bringing my own pair of Persol 714 Steve McQueen Sunglasses with me on the road this weekend for stylish summer adventures. I'm making the trek back to Michigan for a bachelor party (congrats, Andrew!) and some time on the water — Lake Michigan, as luck would have it — plus plenty of home state beer. The tail end of my trip includes a stop in Grand Rapids, aptly known as Beer City, U.S.A. — I plan to check out some of the city's finest breweries, including New Holland Brewing, before I hit the road back to New York City. You can read all about my trip, as it were, in my twice-weekly newsletter The Style Guide In Brief, where I cover music, menswear and craft beer, all at once. It's just one of the recommended reads you should dive into to start your weekend. The rest of my top picks for this week are below, so get that Friday started right. Cheers, folks!
I talked earlier this week about the best new menswear to buy from Todd Snyder (head here to read that post), and if you haven't yet caught up with the latest and greatest from the esteemed designer, I'd say it's about time you start. The Todd Snyder Indigo Surf Terry Sweatshirt in particular is a perfect layer for your next beach trip, with breezy, lightweight fabric construction and go-anywhere style to match. Don't start up that beach bonfire without it.
Now, don't get me wrong: The Persol sunglasses featured at the start of this post are as cool as can be, without a doubt. But if you want to add a pair of shades to your collection that share some DNA with your favorite Shinola watch, you'd do well to check out the new Shinola Eyewear Collection, not to mention my rundown of the frames themselves for Maxim.com. I'm a big fan, and I hope to test out a pair sooner rather than later.
I've given you a shopping recommendation and a reading recommendation (remember, my newsletter is The Style Guide In Brief!), so what say I give you a music recommendation, too? I've started writing for the U.K.'s largest new music publication, the excellent The Line of Best Fit, and I couldn't be more thrilled about it. Fans of The National and folk rocker Sufjan Stevens, like myself, will love the latest release from Ghostly Kisses. I wrote about it earlier this week for Best Fit's New Music section, so give it a read and get plugged in!


Now, that's going to wrap up today's Friday Read as I get ready to hit the road and enjoy the sun and the open air of Pure Michigan. Remember, hitting "Subscribe" on my newsletter, The Style Guide In Brief, is definitely on your to-do list this weekend. And here's one more item for your to-do list: Head to this #OOTD to get my guide on how to dress for the beach for guys this summer. It'll have you covered from head-to-toe with style in mind. Happy shopping and enjoy the weekend, my friends!