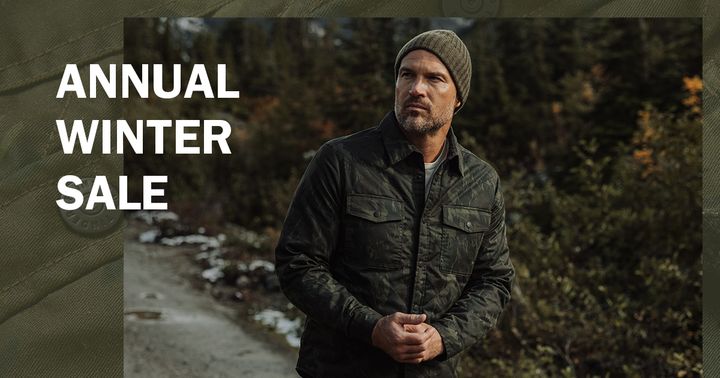 Let's start the weekend on the right note, a rugged and very well-made note, at that. I could be talking about any number of things, but really, I'm talking about the Huckberry Annual Winter Sale, a just-launched offering of some of the most rugged gear for men, only available now through Sunday. If you keep up with the blog, you know how much I love Huckberry, San Fran purveyors of some of the best gloves for men, the most affordable slippers and a heck of a lot more (like the best waxed trucker jacket on the market, among other picks. Through the Huckberry Winter Sale, you can get the savings of your dreams — seriously — with up to 50 percent off on gear you're not going to find anywhere else. Don't let me have all the fun — go shop this sale and feel free to report back on your purchases.
That's not the only menswear-related offering I'm excited about this weekend. This Friday marks a pretty neat in-person menswear opportunity, too. It's one of two annual presentations of the up-and-coming men's fashion showcase known as New York Men's Day, which was previously part of New York Fashion Week: Men's and now serves as part of New York Fashion Week in general. It's being presented by Perry Ellis, the iconic prep sportswear brand that now blurs the lines between classic and modern — 10 new designers get to showcase their collections, including a look at Perry Ellis menswear itself.
I always love checking out emerging designers and seeing how broader, runway-type trends might trickle down into future collections. And of course, it never hurts to connect with fellow menswear writers and editors! To keep up with all the fun, head to my Instagram and give me a follow (events run into early next week, too!). For now, here are plenty more menswear essentials to get your weekend rolling the right way.
How's this for another deal you can't pass up? It won't be around for long, though: Now through February 14th, get 50 percent off sitewide at DSTLD with the code TREAT50. The LA-based denim brand specializes in inky blue denim, super-soft T-shirts, minimal cashmere sweaters and more. If you've been waiting to score some of the best men's blue jeans, this is the sale to shop.
Speaking of savings on the best winter gear, there's a lot to love — as always — at Colorado-based Topo Designs. The makers of some of the best outdoor gear are giving you up to 60 percent off via the Topo Designs End of Season Sale, now through February 21st. You don't need any code, so do yourself a favor and get shopping — will ya?
I'll send you into the weekend with a useful reading and shopping suggestion, at least in my opinion — a crewneck sweatshirt finds its roots in athletic wear, yet it's just as at home these days under a blazer or worn casually with jeans. This versatility makes it downright useful in the winter months, which is why I wrote all about the best crewneck sweatshirts for men at AskMen. Layer up accordingly, my friends.
How's that for a few menswear sales to keep the start of your weekend rolling in style? Before I let you go, here's one more pick for you to consider as you've got your credit card at the ready. The best boots on the planet are made carefully and with rugged style in mind, like the Wolverine 1000 Mile Boots, yes? If you see a new pair of boots in your future, might as well make 'em Wolverine — read more about the Wolverine 1000 Mile Moc Toe Boots here on the blog. Alright, then. You know what to do. Here's to the weekend!