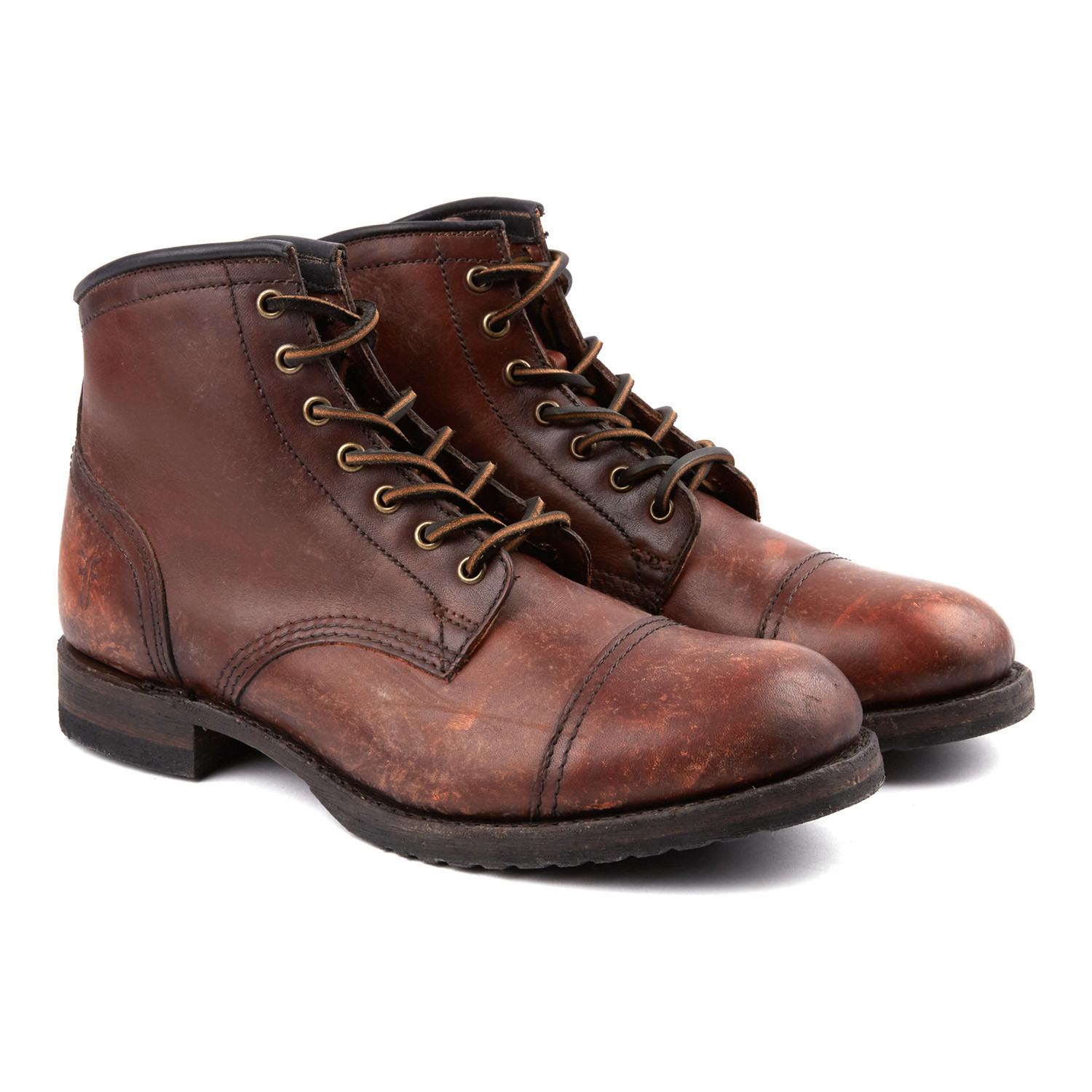 If you're still spending your days searching for a pair of the best boots for men to wear the rest of winter, search no more, because the FRYE Logan Cap Toe Boots are exactly what the doctor ordered, and that's an understatement. They're just the latest and greatest in a long lineage of outstanding, stylish boots for men from the USA-founded, heritage-minded style and gear brand. FRYE has a knack for blending the best elements of craftsmanship with superb style, and that's only the tip of the iceberg, as they say. FRYE's boots are dressy but durable, highly rugged and ready for anything, be it winter weather, the office or a seasonal date night.
Any occasion where you need to look your best should be one where you lace up a pair of the FRYE Logan Cap Toe Boots, in short. Why these boots, and why right now? Well, time is of the essence with winter footwear, and the FRYE Logan Cap Toe Boots are some of the more unique boots on the market, so that's great incentive to snap up a pair.
The FRYE Logan Cap Toe Boots quite literally stand apart from the pack thanks to the use of finely crafted, vegetable-tanned leather that's been pre-distressed and yet is also geared to age nicely over time. They're Goodyear-welted, a process that means you can resole these boots — it's worth the extra effort and investment, because the FRYE Logan Cap Toe Boots certainly don't come cheap (they retail for $478 at FRYE right now, but again, that price tag is worth it). The rubber outsole on this pair of the best men's boots for winter provides traction and durability, ensuring you'll stay on your feet on slippery city streets while getting around wearing the truly exceptional FRYE Logan Cap Toe Boots.
There are multiple variations in terms of distressed leather and different colorways to choose from as you shop the rugged-as-can-be FRYE Logan Cap Toe Boots, but it's the aged brown leather that I think pairs best with everything from the best men's blue jeans to your favorite pair of corduroy pants for winter. Between the cap toe detailing and the relatively sleek profile, the FRYE Logan Cap Toe Boots are dressy yet rugged all at once, which is great news if you want a pair of the best men's boots you can wear with practically anything (black jeans included), and practically anywhere (yes, even to the office). The FRYE Logan Cap Toe Boots deliver on great looks and tremendous winter-ready functionality, so add them to your boots rotation ASAP.