When you find a company that does one thing well — and when that one thing happens to be making some of the best USA-made menswear on the market — it's a wise thing to stick to your guns and continue shopping and supporting that brand. When the company in question happens to be American Trench, a decade-plus-old Philadelphia brand making some of the best American-made gear on the market, it gets even easier to keep coming back.
The rotation of spring style essentials at American Trench includes the best casual sweatshorts and one of the coolest raincoats for men, plus a whole rotationof some of the most comfortable men's socks. Those are just three reasons you'd do very well indeed to shop the American Trench Clearance right now for outstanding savings on a huge array of the best menswear for spring and beyond.
Within the American Trench Clearance, you'll find plenty of gear picks you can buy right now and wear into summer, or at least, wear in the spring, fall and winter. The lineup includes savings on a seersucker chore, a quilted vest and cozy merino joggers, plus discounts on a famed selection of the best spring jackets for men, the backbone on which American Trench was founded.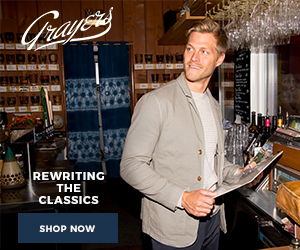 The well-stocked yet fast-moving American Trench Clearance also includes lightweight, pigment-dyed sweatshirts and T-shirts, a rugged waxed field jacket marked down well over 50 percent, and cool vintage-style ballcaps also on sale at low, low prices. Long story short: If you've been looking for a way to stock up and save on spring style essentials, the American Trench Clearance is the place to shop right now — no doubt about. Stay stylish, my friends!